Penelope Plus
6516
A very popular model among rescue gloves. Comfortable handling, mouldability, tactility and TPR joint protection - these are the main features that play a primary role in the selection.
Description
Upper material:
Back: Elastic textile.
Palm: Goatskin leather with hydrophobic treatment.

Reinforcement:
Leather reinforcement – protection of the back of the hand including fingers.
TPR reinforcement - protection of the back of the fingers.
Digital leather reinforcement on the fingertips.
Elastic knitting – Kevlar® fiber PA with FR coating – reinforcement in between the thumb and the index finger overlapping the side seams – high cut and abrasion resistance, longer lifespan of the glove.

Lining:
Palm: Knitted lining made of Kevlar® fiber/PES/fiberglass - high cut resistance.
Cuff:
Elastic wristband made of neoprene with velcro fastening.
Other Information:
High resistance to mechanical hazards.
High strength.
Breathability, sensitivity, flexibility.
Close-fitting comfort fit.
Terry fabric -absorbing sweat on the outside of the thumb.
Plastic ring for hanging the gloves on a carabiner.
EN 388 - cut resistance - class 5.

Standard:

DuPont™ and Kevlar® are trademarks or registered trademarks of E.I. du Pont de Nemours and Company.

Size assortment:

6-7-8-9-10-11-12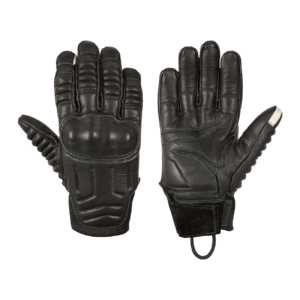 Impact resistant, flame retardant gloves with exceptional anatomical cut which meets high requirements for protection against mechanical hazards and absorption of possible impacts in the back of the hand.
More about the product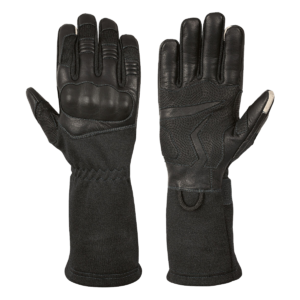 Tactical gloves with exceptional anatomical fit which at the same time meets high requirements for resistance to mechanical risks.
More about the product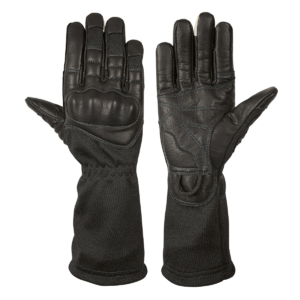 Tactical glove of anatomical cut with a special shooting finger, at the same time meeting high demands for resistance to mechanical hazards.
More about the product
Inquiry form
Thank you for your interest. We will contact you as soon as possible.